day 1
OPENING CONCERT
|

SAT, 19th JUNE 2021

Opening Concert 

Meet the festival team and participants online, listen to all competing recordings online and support your favourites in the Audience Award.

Workshop with our acclaimed juror Dr. Michael Mitchell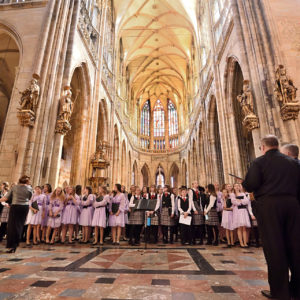 day 2
Announcement of Results
|

SUN, 20th JUNE 2021

Online Sightseeing Tour of Prague

Join our team and explore the "City of a Hundred Spires" without leaving the comfort of your home.

Visit the famous Prague Castle with the magnificent St. Vitus's Cathedral, walk over the Charles Bridge with us while learning something new about the fascinating history of Prague and its famous musical visitors.

Announcement of Results and Award Ceremony in a beautiful venue in the heart of Prague.

Find out who are this year's winners, who won the heart of the audiences while enjoying a live performance of an incredible local a cappella ensemble.