Day 1
Competition and PUBLIC Festival concerts
|

SATURDAY 24th OCTOBER

Festival Competition

Saturday morning and early afternoon belong to competitive and non-competitive performances of participating choirs and orchestras in front of renown festival jury.

Afternoon Concerts

Charm the music-hungry audience in one of the most beautiful venues in Prague, perform at a joint concert with other participating ensembles and support your newly-made friends and fellow musicians.

Announcement of Results and Evening Award Ceremony.

After a long day of expectation, we will celebrate the most accomplished ensembles of this year's competition. Every conductor will also receive valuable feedback from our jurors.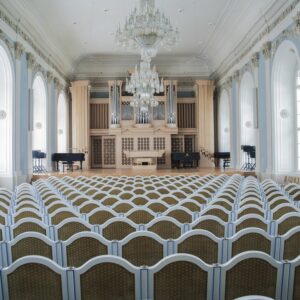 Day 2
Cathedral Mass and Farewell River Cruise
|

SUNDAY 25th OCTOBER

Mass participation in St. Vitus Cathedral

Perform at the greatest Czech cathedral in the largest Castle in the world. Every choir will have an opportunity to perform one sacred piece of its repertoire. After the mass, join the other festival participants and perform together one piece as a great Festival choir.

Sightseeing of Prague

On our way from the magnificent St. Vitus's Cathedral, we have a great opportunity to explore the oldest parts of the "City of a Hundred Spires". Join us on our way from the Prague Castle and let us tell you the stories and legends that graced the streets we will be wandering through.

Farewell river cruise

Join the other ensembles, celebrate your successful performance and crown your festival participation with a lunch cruise on the Vltava river!